Strength and Conditioning have become an integral component of any athlete's program. At Fab Your Life (FYL) we offer High Performance Strength & Conditioning programs for a variety of athletes at all levels.
The Fab Your Life High Performance program is a sports-specific functional exercise training program, focused on speed, strength, power and agility. Our health professionals run in-season and off-season training programs for high performance athletes looking to get that edge and take their game to the next level.
With the increased demand on athletes to continuously perform at high levels in today's society, Fab Your Life utilizes evidenced-based strategies based on the latest scientific research to give our athletes that advantage. Our health professionals are experts in the field and include Registered Kinesiologists and Certified Strength and Conditioning Specialists (CSCS) with the National Strength and Conditioning Association (NSCA).
In addition, our team has an integrative approach and works closely with the Registered Physiotherapist, Registered Massage Therapist, Registered Dietician, Certified Athletic Therapist and Sports Psychologist.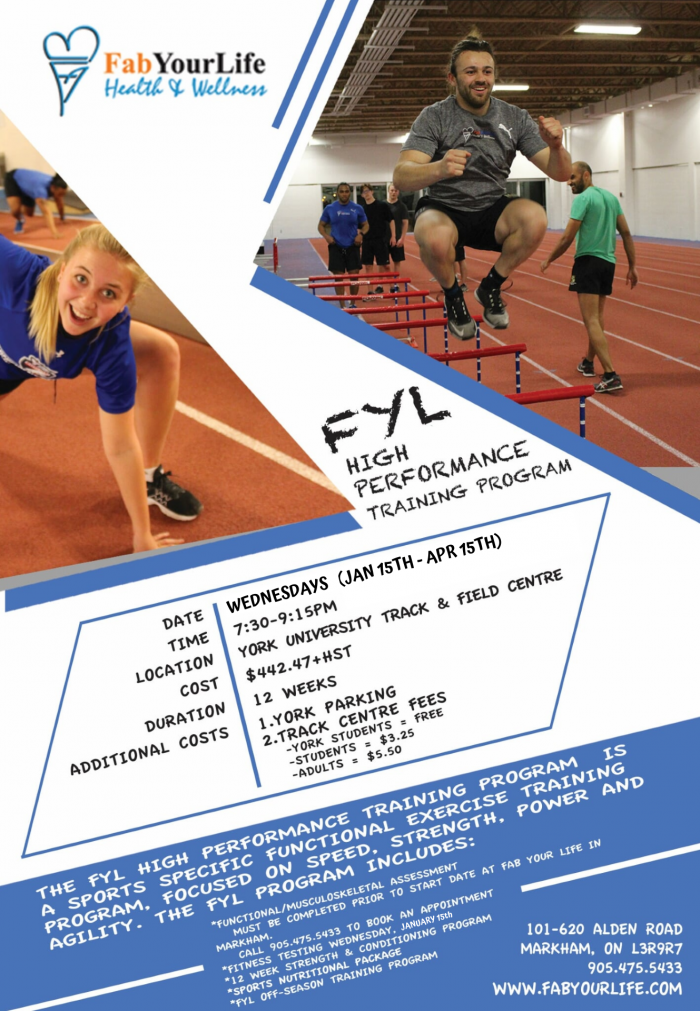 PLEASE CLICK IMAGE TO PRINT
High Performance Training Markham with a purpose
Over the course of the New Year, the Fab Your Life Fitness Markham High Performance Training Program will once again startup! The Training Program highlights the importance of many exercise fundamentals, such as strength, speed and running mechanics. Through-out the early stages of youth sport development, general athleticism is often overlooked, hence hindering young athletes from reaching their full athletic potential. This leads to many missing out on key years of development and potentially shortening their athletic career. If done right, sports play a very positive role within an individual's growth. Athletes learn to work as a team, set priorities, remain disciplined, face adversity and most importantly to fail, all of which are priceless lessons.
The goal of this Training Program is to help whoever is looking to heighten their athletic ability by providing professional and evidenced-based approaches. The program offers a functional movement screen as well as a musculoskeletal assessment to provide individualized information on muscular strengths/weakness and potential imbalances. Knowing one's PRO's and CON's can help quickly target areas of focus and possibly avoid injury. Nonetheless, a pre and post fitness test is also complete to determine fitness baselines and to compare the quantity of improvement following the 12 weeks of sport-specific training. To top it off, each member of the Fab Your Life High Performance Training Program is given a sports nutritional package as well as a Fab Your Life off-season training program, all of which should not be missed!