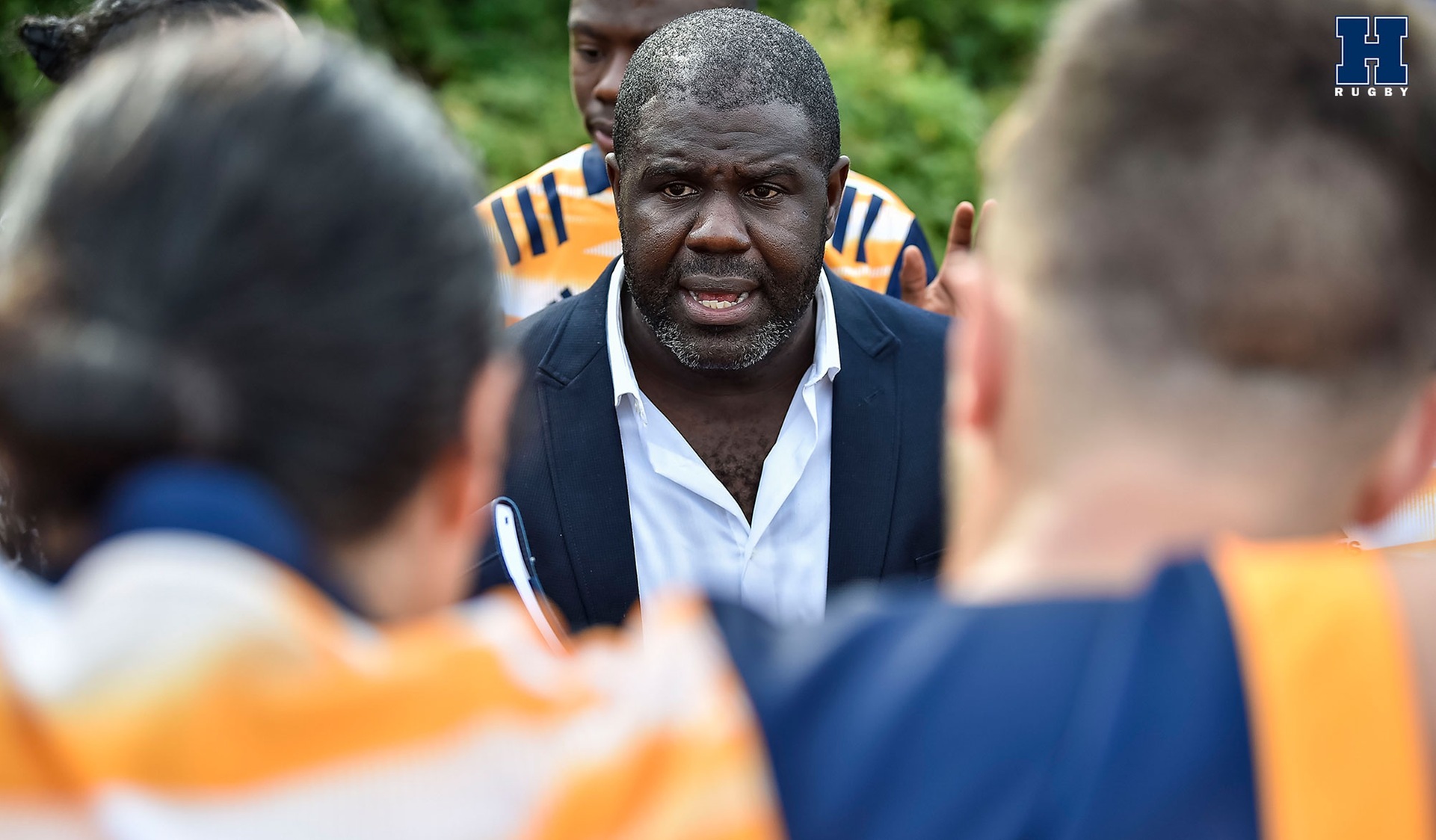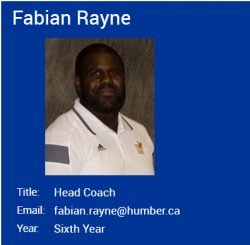 Head Coaching Tenure: Six seasons
Overall Record: 38-8 (.826)
OCAA Provincial Titles: Four (2011, 2012, 2013, 2014)
OCAA Postseason Record: 10-1 (.909)
OCAA Postseason Appearances: Five (2011-14, 2019)
OCAA League Record: 28-7 (.800)
OCAA Division Titles: Three (2012-14)
Coaching Accolades: Two-time OCAA Division Coach of the Year

About:
Fabian Rayne was named the second head coach in Humber rugby history on July 17, 2011, by athletic director Doug Fox and has quickly become one of the most successful coaches in the OCAA.
In six seasons at Humber, Rayne has compiled a 38-8 (.826) record, along with two OCAA West Division Coach of the Year selections. All three of Humber's perfect seasons have come under his direction, including four straight OCAA titles from 2011 to 2014.
During Rayne's tenure at Humber, the Hawks have had three OCAA Player of the Year selections, four OCAA scoring champions, and 11 All-OCAA selections. The Hawks have had equal success in the classroom, as Humber rugby earned four OCAA All-Academic selections in 2019.
Taking over a program that won a provincial title in 2010, Rayne and the Hawks went on an unprecedented run, winning 30 of their next 31 matches to tie the conference record with five straight OCAA titles.
In 2012, Rayne led the Hawks to its first perfect season, scoring a conference-record 663 points. OCAA Player of Year Phil Boone finished the year with an OCAA record 166 points – including a record 46 points in a match at Sheridan on October 28. A week prior, the Hawks beat Mohawk 129-0, establishing new league records for points in a match and combined points in a match by two teams.
Despite the record-breaking year, some believe Humber's 2014 season was the most dominant season in OCAA history. The Hawks ran the table for the third straight year, outscoring their opponents 528-0 and never let their opposition cross half. Johnny Sheridan was named the player of the year and scoring champion as Humber captured its fifth straight provincial title.
With a young and inexperienced squad, Humber returned to OCAA action in 2019 and beat Seneca, 33-22, to capture the OCAA bronze medal.
Before Humber, Rayne began coaching the Rugby Ontario Junior Blues squad in 2008, capturing national titles in 2011 and 2012. In 2016 he took over as the head coach of the Markham Irish Canadian Rugby Club and brought the club from a sub .500 team to consecutive McCormick Cup Championships, including a title in 2018. He currently holds an NCCP Level 2 coaching certificate.
A registered Kinesiologist, Clinical Exercise Physiologist, and Active Member of the Ontario Kinesiologist Association, Rayne has 12-plus years of teaching experience at Humber College and the University of Guelph-Humber. In 2001 he created Fab Your Life, a multidisciplinary health and wellness clinic in Markham, Ontario.
In 2000, Rayne earned a Bachelor of Kinesiology from Western University and earned a graduate certificate in rehabilitation from the University of British Columbia in 2020. He is currently completing a Master of Rehabilitation Science from UBC, with the expected completion in 2021.
At Western, Rayne was a running back for Mustangs football from 1996 to 2000. In his senior season, he was drafted by the BC Lions in the sixth round of the Canadian Football League draft and made his professional football debut a year later for the Toronto Argonauts.
A member of the Canadian National Men's Sevens Rugby team, Rayne competed on the sevens circuit in England and France in 2002. He played rugby at the provincial and national levels at every junior age grade and travelled with Western's varsity rugby team to South Africa in 1999.
Fabian Rayne Yearly Record
Year
W
L
Pct.
Postseason
 
2011
6
1
0.857
OCAA Champions
2012
8
0
1.000
OCAA Champions
2013
8
0
1.000
OCAA Champions
2014
8
0
1.000
OCAA Champions
2015
3
3
0.500
2019
5
4
0.556
OCAA Bronze
Totals
38
8
0.826